The Traitor and the Chalice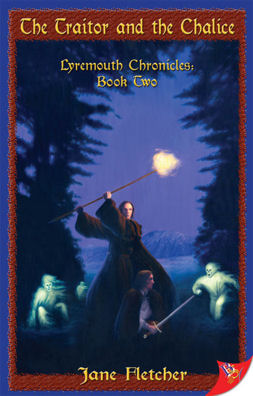 Tevi has made a new life in the Protectorate - a life that includes Jemeryl - something she could never have expected when she was exiled from her home. Even more surprising is that she finds herself seriously engaged in the search for the chalice. The fake quest has suddenly become very real. Somebody is prying into a long hidden secret and the future of the whole Protectorate is at stake.
Tevi and Jemeryl will have to risk all in the race to uncover the traitor and retrieve the chalice. Without allies to help them, they will need to rely totally on each other; something made all the more difficult when the rest of the world seems intent on pulling them apart. Events will forced them to re-evaluate their assumptions about society and their places in it. Success will require making difficult choices, even while they battle for their lives.
(previously issued as Parts Three and Four of Lorimal's Chalice -the Gaylactic Spectrum Award finalist for best novel of 2003)
~~~~~~
Buy the book from: Bold Strokes Bookstore. Available in paperback and ebook.